COVID-19 Vaccine
Yost Pharmacy is authorized vaccinator through the state of Ohio. We are currently receiving intermittent shipments of vaccine and appointments will become available as we receive shipments.
To schedule a COVID 19 vaccine with Yost Pharmacy OR any other vaccinator in your local area please follow the link below. Yost Pharmacy will only show up on this site if appointments are available.
https://gettheshot.coronavirus.ohio.gov/
The state has required we migrate to a central scheduling system. AS A RESULT, WE WILL NO LONGER ACCEPT NAMES FOR A WAITING LIST.
PCR COVID-19 Testing
We're partnering with Mason-based Mobility Health to provide reliable, highly accurate, PCR-based COVID-19 testing to the community at our pharmacy every day of the week! Most test results are reported within 24 hours or next day Monday through Friday. Please allow for slightly longer processing times on the weekends.
Drop-ins are welcome! Pre-register on the Mobility Health portal today to speed up your visit.
Your Healthcare Specialists
Yost Pharmacy offers the kind of friendly, personal service your mom and dad knew but with a broader scope. From custom prescription compounding and vaccinations to durable medical equipment -- lift chairs, walkers, wheelchairs and more -- we serve all your prescription and medical supply needs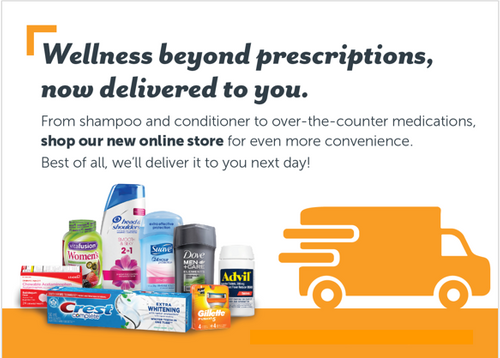 Free Local Prescription Delivery
We are proud to offer free prescription delivery to Mason residents. We can also extend our free delivery service to residents of Lebanon, West Chester, and Maineville.
Same-day delivery for prescriptions called in by 10:30 a.m.
Same-day evening delivery (by 9:30 p.m.) for prescriptions called in by 3 p.m.
Limited weekend delivery available; call for details.
"My family has used this pharmacy since the 70s and it hasn't changed much in the area of helpfulness, friendliness and atmosphere. You can trust you will be skill taken care if if you visit Yost's."
- Hope F.
"This is a locally owned business providing medication and Health Care equipment. The staff is extremely helpful and the pharmacy delivers. The store has many over-the-counter medications and bandages along with health and beauty aids."
- Adrian R.
"Wonderful professional family-owned Pharmacy wonderful that they do bioidentical hormones and get it right every time! Not your usual Pharmacy experience competitive prices as well."
- Lisa G.
Download Our Free Mobile App

Refill your medications 24/7 on-the-go or when you're at home.

Safely store your information and manage your list of prescriptions.

Set reminders to take your meds or when it's time to refill.
Subscribe to our newsletter for seasonal promotions, health news and savings