The History Of Yost Pharmacy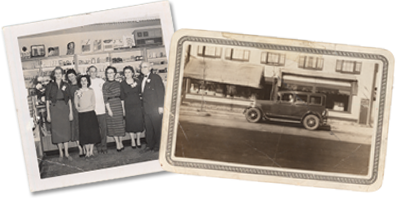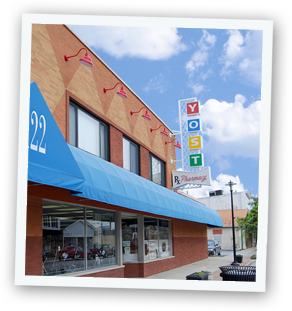 It began with a baker's dream to take care of his community through accessible and affordable pharmaceutical care. Valentine Yost, a German immigrant, earned his pharmacy degree while working as a baker at Kirschner's Restaurant in Cincinnati. He began his pharmacy career at a pharmacy in Findlay Market and later at Christ Hospital. In 1945, he purchased The Mason Drug Store – located at 126 W. Main St. – which is now known as Yost Pharmacy.
Carrying on the family tradition, Val's son, Richard Yost, along with wife Jane, bought the pharmacy in 1972, expanding and relocating the business to its current site at 120 W. Main St. The pharmacy grew again with an addition in 1986. A 2005 remodel expanded the pharmacy and compounding areas. Today, Dick runs this third-generation, independent pharmacy with two of his children, David Yost and Sarah McClain, both of whom are pharmacists.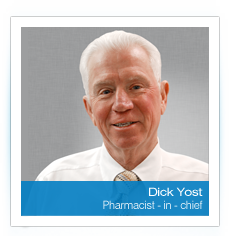 Richard (Dick) Yost, RPH
Most of Dick's life has revolved around Yost Pharmacy. It began in 1945 when his parents purchased the pharmacy, and the family lived in the space above the store. He has worked his whole life in the family business - first as a clerk in high school, an intern while in college and today as a pharmacist and owner. A University of Cincinnati 1966 graduate from the College of Pharmacy, Dick has seen the business grow from a one-pharmacist store to five pharmacists. "As Mason grew, we were fortunate to grow with it," he says. "I have enjoyed living in Mason and feeling that our customers are an extension of our family." Dick further engages with the community through his volunteer work, having been a Kiwanis member for 40 years and a founding member of the local Chamber of Commerce. He also has served on the boards of the Warren County Foundation, Mason Christian Village, and Peoples First Savings Bank. He and his wife, Jane, have four children Sarah, Theresa, David and Matthew and seven grandchildren.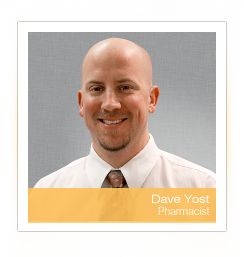 David Yost, RPH
David began building relationships with long-time Yost Pharmacy customers at a young age while sweeping floors and loading pop machines. Upon graduating from the University of Cincinnati in 1999 with a Bachelor's of Science degree in pharmacy, he took a job in Greensboro, North Carolina, as manager for the national chain Eckerd Drug. After a year there, he realized the independent pharmacy environment at Yost Pharmacy suited him better. I enjoy the personal atmosphere of our independent pharmacy and the opportunity it affords me to foster relationships with our customers, he notes. Serving their individual needs and playing an important role in their health and wellness are by far the most satisfying parts of my job. David also enjoys working with physicians and patients to find solutions to difficult health problems through custom prescription compounding and nutritional supplementation. He and his wife, Julie, reside in Mason with their two children, Johnny and Emma.
Advanced Experience
Certification training through the Ohio Pharmacists Association for pharmacist-administered immunizations
Trained in medication therapy management through Outcomes Pharmaceutical Health Care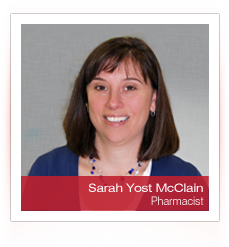 Sarah McClain Yost, RPH
Starting as a clerk in the family business and working her way up as pharmacy tech and then intern, Sarah began serving the Mason community as a registered pharmacist at Yost Pharmacy in 1995 after receiving her Bachelor's Degree in pharmacy from the University of Cincinnati. Sarah enjoys being able to support customers' well-being by offering services beyond prescriptions, such as immunizations, wound care education, diabetic testing supplies and medical equipment consultation. Assessing customer needs and having the flexibility to meet those needs is truly satisfying. The most rewarding thing about being part of an independent pharmacy is being able to provide personalized care at the highest level. She and her husband, Scott, reside in Mason with their three children, Owen, Andrew and Sean.
Advanced Experience
Certificate training through the Ohio Pharmacists Association to administer adult immunizations
Completion of multiple pharmacy student preceptor training programs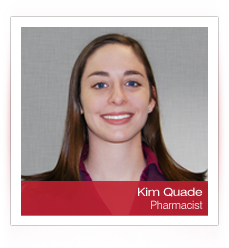 Kim Quade, PharmD, RPH
Ever since she was a child, Kim has been interested in pharmacy; she credits her mom with introducing her to the profession. She began working at Yost Pharmacy in 2010 after graduating from The Ohio State University with a Doctor of Pharmacy degree. She also holds a Bachelor of Science degree in pharmaceutical sciences. Kim is excited about the expanding opportunities for pharmacists in health care, especially in the areas of vaccinations and medication therapy management. My favorite part of my job is knowing that I help people every day with their medications, whether it's a recommendation for an over-the-counter cold medicine or questions about a new prescription. Kim resides in Blue Ash with her husband, Mike.
Advanced Experience
Completion of certificate programs in immunizations, medication therapy management and diabetes through the American Pharmacists Association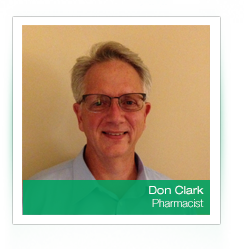 Don Clark, RPH
Don decided to become a Pharmacist when he was 12. Growing up in Madeira, he admired his local independent pharmacist and wanted to "do what he does". A 1982 Graduate of the University of Cincinnati College of Pharmacy he holds a Bachelor of Science degree in Pharmacy. In over 30 years Don has participated at all levels of our profession including running Regional Pharmacy chains in the south and upper Midwest at the Executive level. He is excited about coming to Yost where he can get back to his roots, especially in the areas of patient care. He believes that Pharmacists have become true healthcare professionals, providing vaccinations and medication therapy management. "The best part my Job is getting to know the people who trust me to fill their prescriptions. I want to help with all of their healthcare needs and enjoy answering their questions." Don and his wife, Angela, reside in Morrow. They have two grown children, Jason who works for CVS Longterm Care in Tampa Florida, and Addie who is an Assistant Professor of Chemistry at the Oregon Institute of Technology in Klamath Falls Oregon.
Advanced Experience:
Certification training in Pharmacist Administered Immunizations
Lipid Management and Diabetes Management through the American Pharmacist Association
Certification training in Medication Therapy Management through the American Pharmacist Association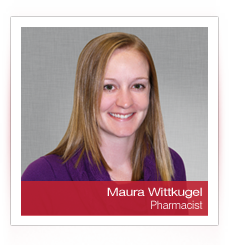 Maura Wittkugel, PharmD, RPH
Maura started at Yost as a pharmacy intern just before starting pharmacy school in 2009. After graduating from University of Cincinnati in 2013 with her Doctor of Pharmacy degree, she stayed on with Yost as a pharmacist. I enjoy the flexibility that working for an independent pharmacy provides. I have more time to focus on customer care through services such as counseling, administering vaccines and compounding medications customized for what patients need. Maura looks forward to spending many years serving the community as a part of the Yost Pharmacy family. She resides in Blue Ash with her husband, Andrew.